Locked up: Covid-19 and prisons in Europe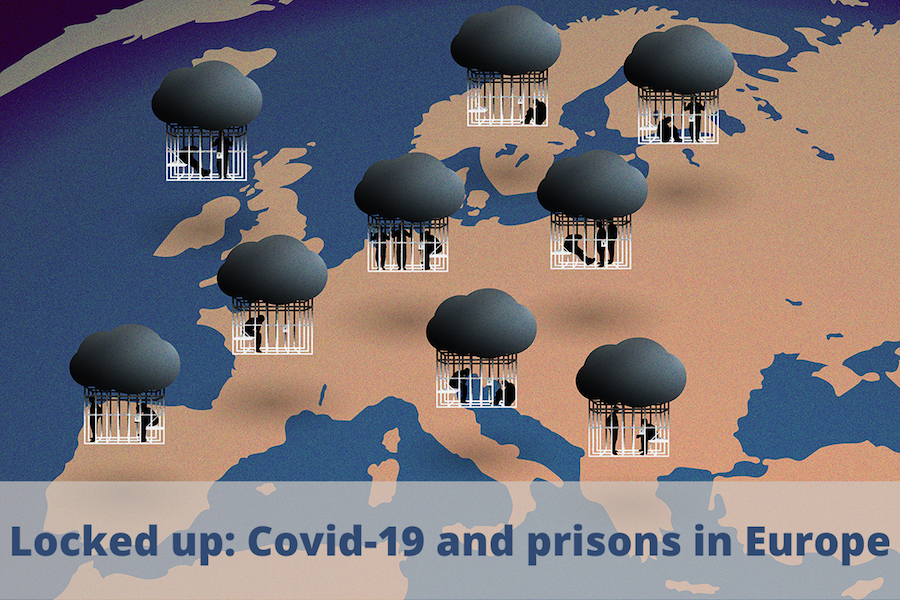 Life in carceral facilities has changed a lot since the COVID-19 outbreak took off. Yet little data has been made public about the spread of the coronavirus in carceral facilities. Data collected by 12 newsrooms in the European Data Journalism Network, coordinated by Deutsche Welle, shows that the effort to keep the infection under control in detention institutions came at a high cost.
Prisoners found themselves more isolated than ever: visits and education activities were suspended, vaccination campaigns were delayed, while overcrowding put the most vulnerable at risk.
The issue affects all society, because if you're not protecting prisons, you're not protecting the community. More than half a million people were incarcerated in Europe in the middle of the COVID-19 pandemic.
Prisons are an ideal breeding ground for viruses: overcrowded, with cramped living arrangements and often poor hygiene conditions. Moreover, many incarcerated people have multiple health risk factors.
EDJNet's data unit has collected data from 32 European countries that show how many cases and deaths were reported in prisons, how vaccinations progressed and what measures were taken to curb the spread of the virus.
Main findings:
Most countries locked down prisons hard and fast at the start of the pandemic. Visits were stopped, and prison leave schemes were put on hold. In many prisons, work and recreational activities were also suspended.
Prohibitions on visitors were especially difficult for incarcerated people. Most countries introduced measures for virtual visits, which were often unthinkable before the pandemic. Low connection speeds and usage restrictions still pose problems however.
Isolating prisoners has become a standard measure in many countries. For instance, in Ireland, incarcerated people 70 and older or with chronic illnesses were automatically placed in solitary confinement during the first wave.
Some of the most severe and prolonged restrictions were seen in the countries with the worst prison overcrowding, which makes distancing measures impossible to implement. One in three European countries operate their prisons above official capacity.
Adopted measures have helped, overall, not to turn prisons into runaway COVID hot spots. In many countries infection rates seem to have roughly been paralleling those of the population in general. Croatia and Greece were exceptions, since prisoners there were infected at a much higher rate than in the general population.
Underreporting of data is an issue, as most prison administrations don't collect data systematically. This might not necessarily be deliberate.
During the first wave, many countries throughout Europe released people in unprecedented numbers in order to ease the pressure on prisons, but incarcerated populations are now rising again.
Most European countries did not include incarcerated people as a priority group in their vaccination plans.