Romania burns: Vegetation fires claim victims
Vegetation fires not only destroy the environment - they kill animals and people, too. Last year alone, 15 people died in Romania due to out-of-control fires - which are almost always man-made.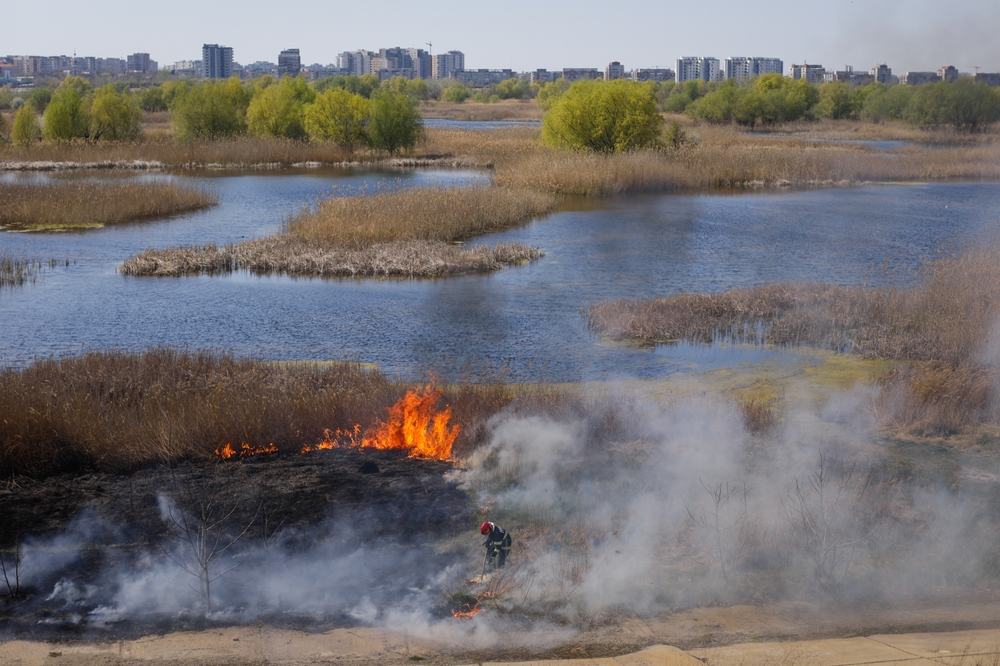 2020 – 81,668 hectares
2021 – 20,957 hectares
2022 – 162,518 hectares
The data above, taken from the European Forest Fire Information System (EFFIS), brings Romania the gold and silver medals for vegetation and forest fires in recent years. A 2020 European report shows that Romania was the most affected country in the European Union. In 2022, Romania came second, but with a much higher number of fires than in previous years.
European reports also state that nine out of ten vegetation fires are man-made. Humans cause the fires, and humans suffer the consequences: last year, 15 people died in Romania due to out-of-control fires.
Why do Romanians burn their fields? PressOne spoke to several experts to understand the effects of burning vegetation on soil, flora and, most importantly, human life.
"She recognised him by his Adidas"
In March 2023, a man from Razvad, Dâmbovița, left home in the morning to clean his garden on the hill for spring. He gathered the plant debris – dried leaves, twigs, grass – and set fire to it.
It wasn't the first time he'd done this. This time, however, the wind started blowing and the fire got out of control. He tried and failed to put it out with a rake.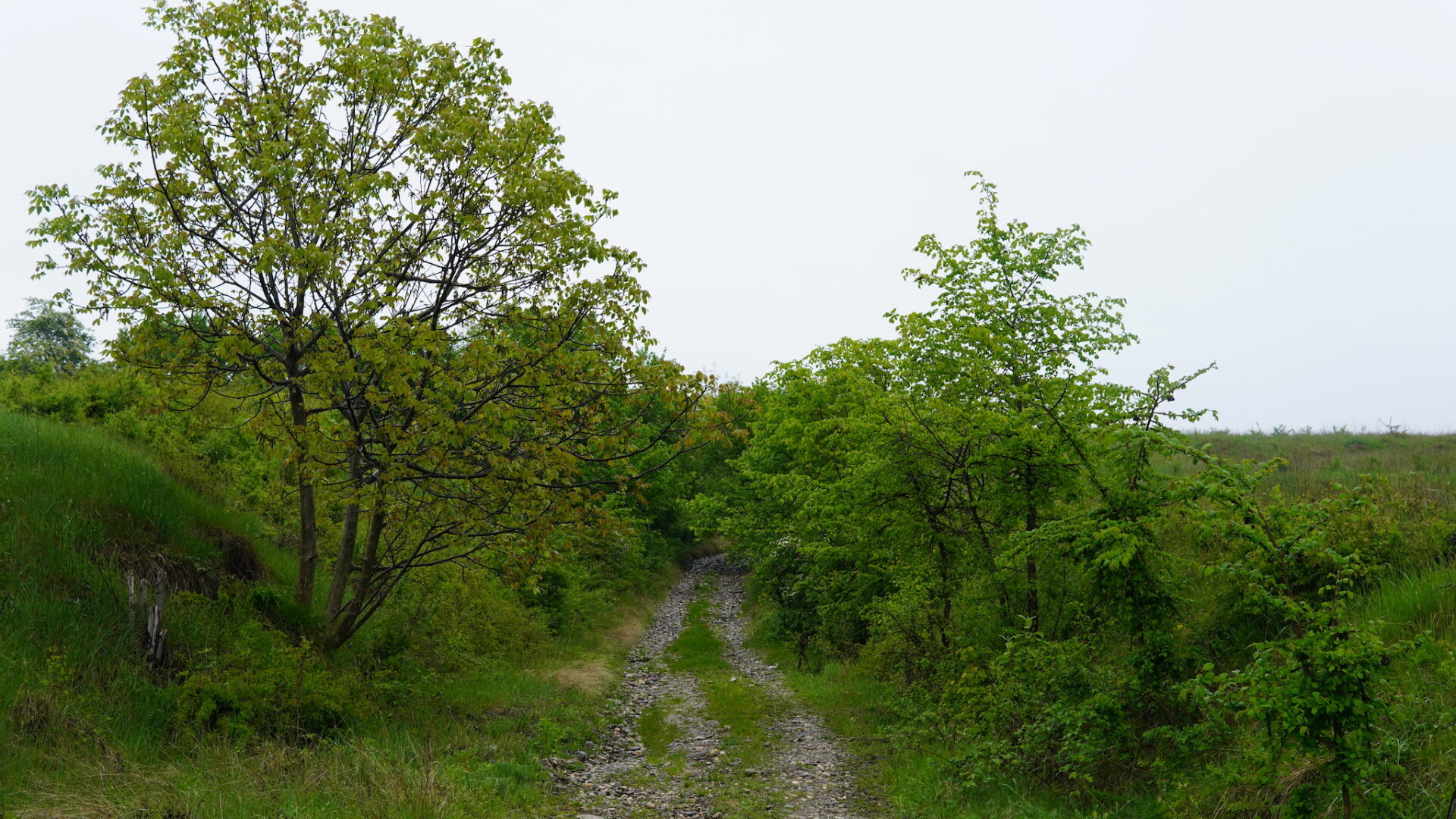 "The wife of the deceased went to the garden, because he was not answering his phone. She tried calling twice and received no answer. She didn't see him anywhere and started shouting for him."
"She didn't realise he was in the fire. As she came closer she only recognised him by his Adidas trainers," a neighbour who wishes to remain anonymous told PressOne.
Firefighters arrived on the scene, but there was nothing they could do. The fire had gone out with the man who started it, witnesses said.
Today in Razvad, the hillside garden is green – full of new, fresh grass, as if nothing had happened there just a few months ago. The only evidence, neighbours say, is a cross erected in the garden by the man's family.
"You said there was a stump there."
"When emergency forces arrived, the fire had spread to a house and an outbuilding. To extinguish the fire and remove debris, the Ialomița rescuers worked for about 3 hours (…). Unfortunately, the charred body of a female person aged about 70 was found in the yard".
In June 2022, Urziceni firefighters were called to extinguish a fire in a household in Ciocârlia, Ialomița. A neighbour working in the yard had called 112 after hearing noises. When he went to see what was going on, he saw the fire that had already engulfed the house next door and the wind-blown debris in his yard.
"That day he had set a fire somewhere in the yard. And a strong wind began to blow. (…) I went where I knew she [the neighbour, ed.] was sleeping and couldn't find her. I looked for her outside, then I went in and took out the fuel tank and whatever she had of value in the house. But the fire was already raging between the houses", says the neighbour. Together with 30 other people from the village and members of the Ciocârlia Voluntary Emergency Service, he intervened to put out the fire that was at risk of reaching a wheat field just behind the house.
According to preliminary investigations, the victim had started the fire and, due to a leg injury that limited her mobility, was unable to control its spread.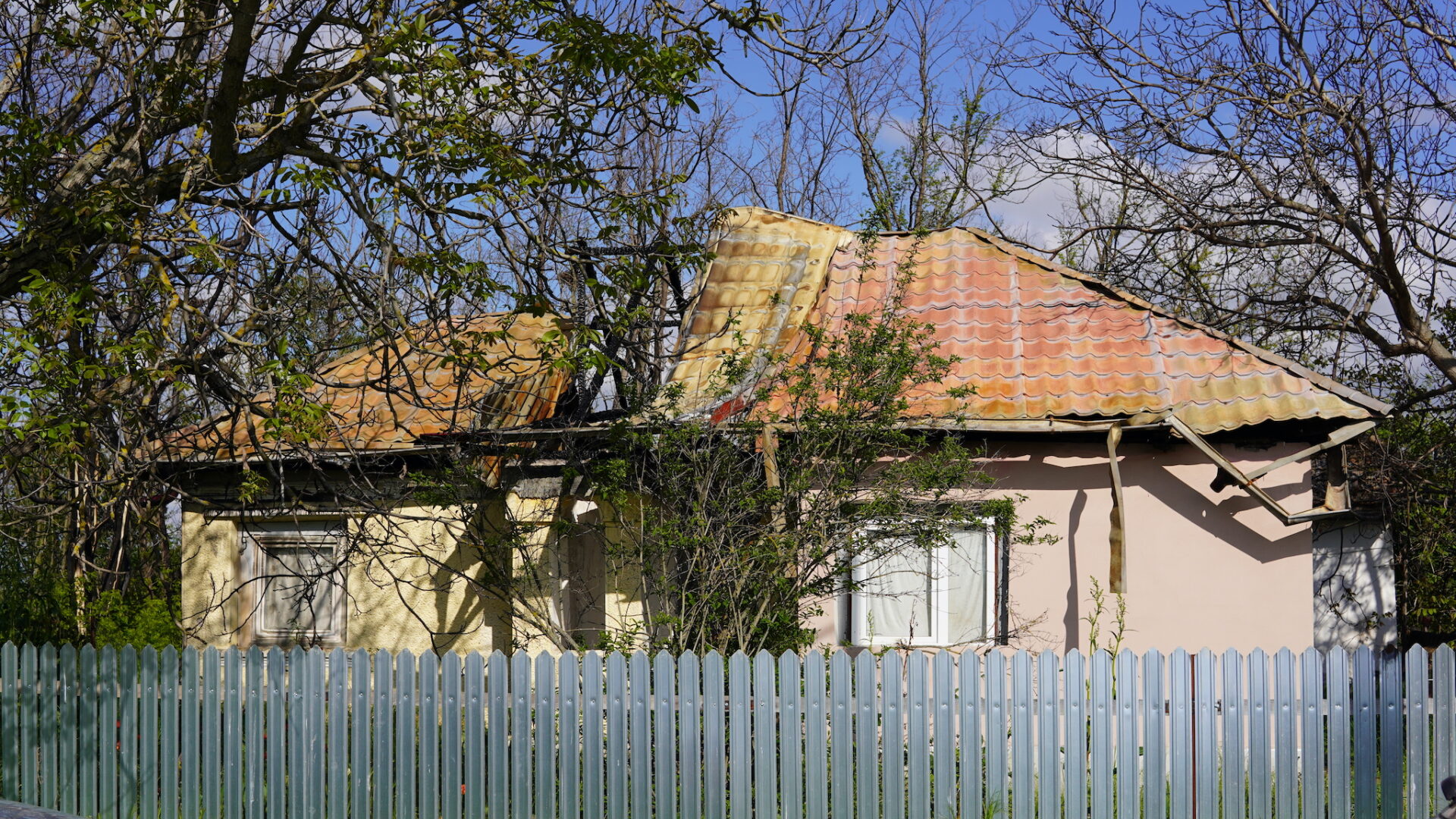 "After the firefighters came and started putting it out, they found her somewhere in the corner of the house. Fallen. Burnt. But at first you couldn't tell it was her. It seemed more like a stump. It was so big, you couldn't get near it," adds the neighbour.
Almost two years after the fire in Ciocârlia, the traces are still visible. The tree in the courtyard has not turned green, even though new grass has grown around it. And the burned-out house is missing a portion of its roof.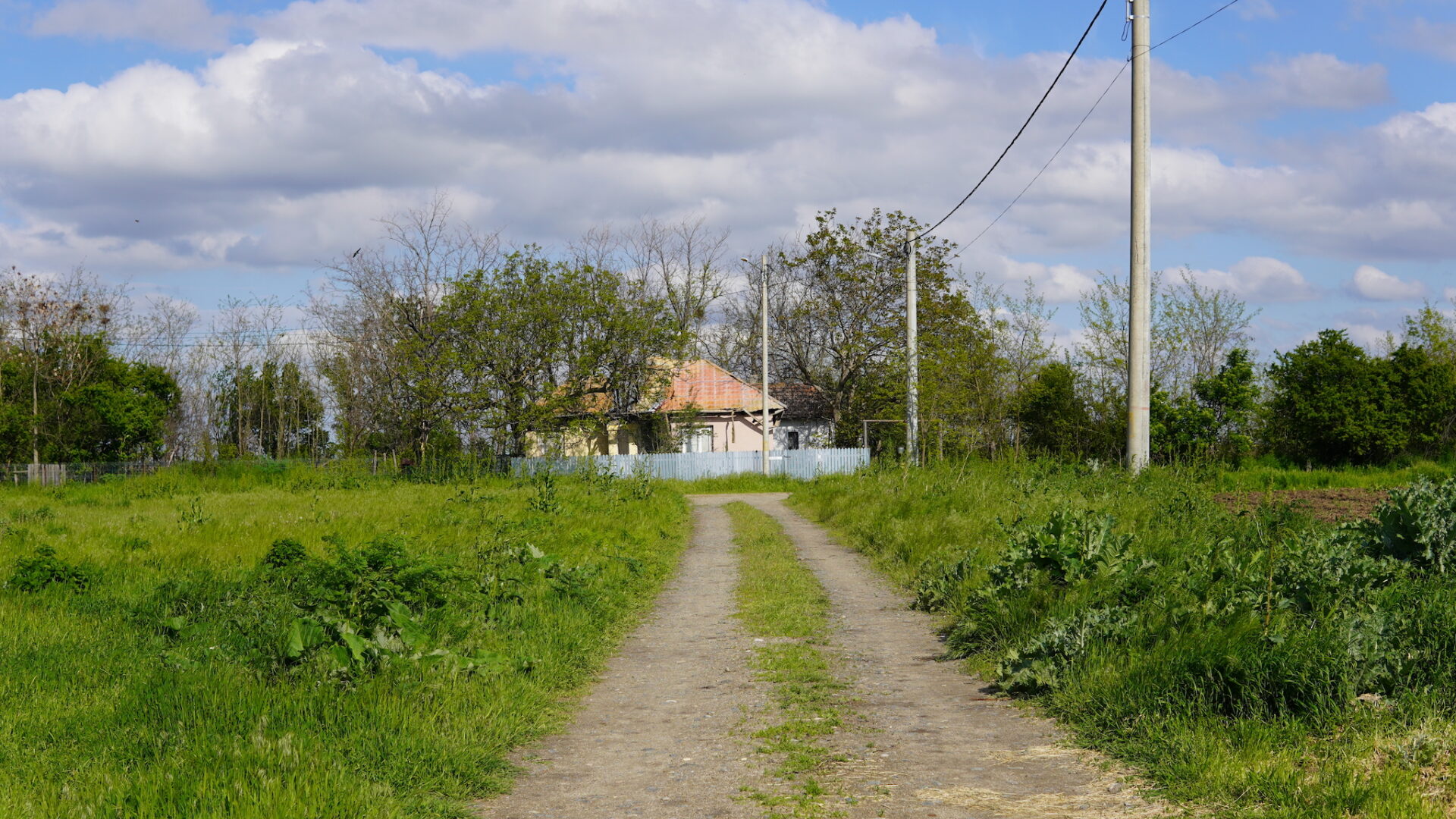 15 people died in 2022
From a response sent to PressOne by the General Inspectorate for Emergency Situations, it appears that 15 people died in 2022 due to vegetation fires and 42 others were injured.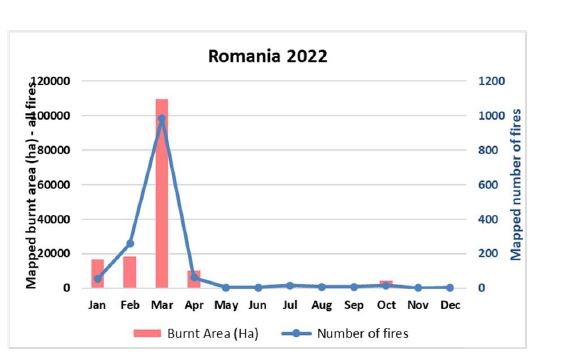 Animals are also victims of these fires: in 2022 alone, 43 animals died as a result of vegetation fires.
"Spring cleaning" humans cause 23,772 vegetation fires
According to European reports, among the areas most affected by fires are the agricultural, forest and reed-bed areas of the Danube Delta, already discussed in a previous article in this series ("other natural land" in the table below):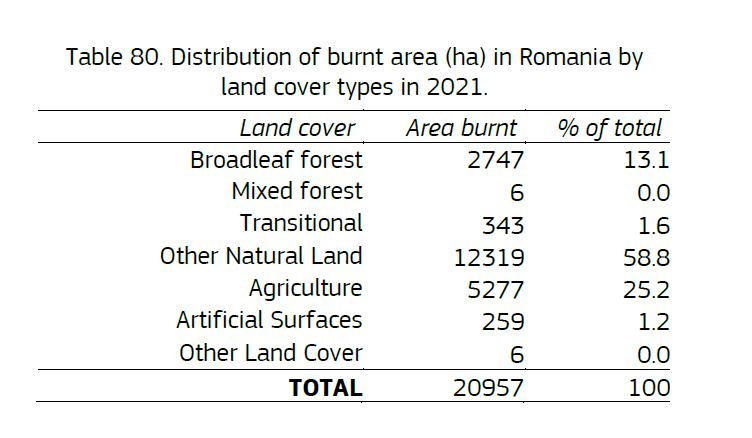 In the same response sent by the Romanian General Inspectorate for Emergency Situations (IGSU) to PressOne it appears that more than 75 percent of the fires where the inspectorate intervened were started intentionally, to "burn debris or clear dry vegetation". People deliberately set fire to vegetation debris, even though it is prohibited and those caught can be fined up to 6,000 lei.
According to the IGSU, in 2020 the emergency services intervened in the containment and extinction of 16,216 vegetation and other wildfires (occurring on waste land, courtyards, gardens or fallow fields). In 2021, the IGSU intervened in extinguishing 12,885 such fires across the country, and in 2022 the number almost doubled to 23,772.
In the period 2020-2023, the "leading" counties where firefighters had to extinguish more than the most vegetation fires per year were Teleorman, Mehedinți, Prahova and Dâmbovița. In Dâmbovița, both in 2020 and 2022, ISU firefighters were called to more than 1,000 vegetation fires. By March 2023, the county was leading the country with 221 fires requiring intervention.
Why do people set fires?
Especially if they're putting their lives at risk?
"It is understood that by burning dry vegetation waste, the resulting product can be  good fertiliser for agricultural land," explains Antonache George, commander of the "Morarilor" Fire Department, "Dealul Spirii" Emergency Inspectorate Bucharest-Ilfov, who adds that a fire becomes dangerous when it can no longer be controlled.
"If the wind starts to carry the fire towards other things in the area – textiles, wood, plastics – then it gets out of control and it is no longer a controlled fire, it is a fire," says Commander Antonache George.
So, is fire good for the soil or not? "First of all, it's illegal."
We tried to find out from several experts whether or not fire is good for farmland, but opinions are divided. One institution with expertise in the field is the National Research and Development Institute for Soil Science, Agrochemistry and Environmental Protection – ICPA Bucharest, which is part of the Ministry of Agriculture and accredited to carry out research on soil quality.
According to scientific director Mihail Dumitru, burning leads to the loss of organic matter in the soil.
"First of all, it's illegal. (…) The loss of organic matter is extremely harmful to the biological activity of the soil. It leads to an easier destructuration of the soil in question, it increases the erosion capacity, and the soil is more easily washed away by the rain, if the land is sloping," explains Dumitru.
Liviu Buzilă is a geomorphologist who teaches at the Faculty of Geography at Babeș-Bolyai University in Cluj-Napoca and argues the exact opposite: that burning debris is good for the soil.
"The ash produced by fire is a fantastic fertiliser for soils, the best soils are found where there is the most ash, including volcanic ash. Vegetation fire is beneficial for soil in two ways: firstly, the ash is formed, and secondly, many pests are killed in the process," Buzila explains.
According to the researcher, burning debris is not harmful to the soil because the fire moves quickly and never penetrates very deeply.
"In the countryside, burning stubble fields is done precisely to get rid of the crop residues more quickly. But that's a two or three-hour fire. In stubble fires, even the soil fauna is not heavily affected. Everything that exists – worms, insects – can retreat deep into the soil and continue to live without any problems. After two or three hours of burning, the heat only penetrates two or three centimetres," he says.
For many farmers, says Mihail Dumitru, scientific director of ICPA Bucharest, it is much cheaper to burn plant residues than to apply other treatments. But those who receive payments from national or European funds are obliged to comply with cross-compliance rules, precisely to keep organic matter in the soil. And one very clear rule is a ban on burning arable land.
"They then come in with a relatively deep plough", explains Dumitru, "mix the soil and don't damage the next crop. And that's why a lot of farmers have allowed themselves to use this system to get rid of crop residues (…). That doesn't mean it's much better. There are routines that can't be fought. And then the legislator passed a law, so that it is no longer just advice".
"I've set fires a thousand times, I didn't think anything would happen to me"
Not only is arson forbidden, it is also dangerous. Those who cause a fire are often also the ones who are burned or suffer smoke inhalation.
"The vast majority do it because they're used to it or think it can't happen to them (…). But they don't realise the danger they're exposing themselves to, and they make the mistake of setting fires and not keeping close watch. If there's some firewood left, they throw it away and that's enough", says fire brigade commander Antonache George.
More than a few times following an intervention to extinguish a vegetation fire he has heard the same thing: "I have set fires a thousand times, I didn't think anything would happen to me".
Statistics from the IGSU show that in more than 80 percent of cases, the average age of people killed in vegetation fires is over 56.
"A burned area stays like this for ten years"
While stubble fires might last only a few hours, the same is not true for forest fires, which can last for days. In 2021 alone, there were eight fires lasting more than 24 hours, European data shows.
"It is important to specify how long a fire lasts and the area where it occurs. In a forest area, where coniferous forest is burning, fires can last for several days. There is a strong evaporation of water from the soil, which can lead to the destruction of soil fauna, which is responsible for the loosening and permeability of the soil. It causes changes not necessarily in the structure, but mechanically, making the soil extremely compact. Brick is clay that has been burnt by fire, so if we have long periods of time in which the fire persists, we can have a partial transformation of the soil into a material that can no longer be used agriculturally," says geomorphologist Liviu Buzilă.
In the case of stubble, if the burnt area is next to a meadow, then the fire is also a threat to biodiversity.
"Burning vegetation has negative effects on biodiversity, and that's because surface fire destroys the seed stock in the soil. This is especially true of annual plants, and this changes the whole balance that previously existed in a meadow. (…) Field flowers disappear and the predominant species of grasses with deep rhizomes escape and are not affected so much by the fire", explains Cosmin Sicora, research biologist and director of the Jibou Botanical Garden.
Annual plants, he adds, are the main source of pollen for pollinators. If they disappear, bees and other pollinating insects are also affected, and this affects agricultural crops.
"Romania's meadows, especially in the Transylvanian area, are a biodiversity hotspot and have the largest number of meadow species in the world. There are more species than in African savannas. Fire destroys the seeds in a year, and very few recover. An area that has been burnt remains like this for ten years," says Sicora.
Last but not least, vegetation fires cancel out the very effect plants have.
"Every plant takes carbon dioxide and releases oxygen, and when we burn it, we release that carbon dioxide stored in the plant again," he adds.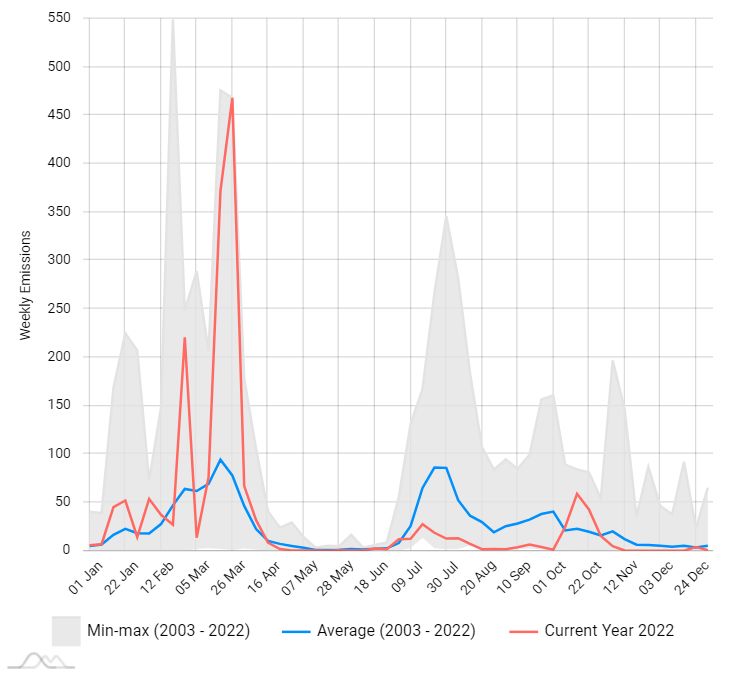 Penalties, but not too many
So, how many penalties have been imposed? For the period 2020 – 2023, IGSU inspectors carried out over 6,000 checks and controls to prevent vegetation fires and issued over 1,600 warnings and 480 fines, totalling around 1 million lei.
In 2019, the IGSU, the Environmental Guard and the Agricultural Payments and Intervention Agency (APIA) signed a collaboration protocol to increase the efficiency of controls for farmers applying for national or European funds. Specifically, when the IGSU intervenes to extinguish a stubble fire, it notifies the APIA.
The APIA is an important actor when it comes to penalties, because it is able to withdraw payments from the farmer who has cleared his farmland by fire. But for the 2022 funding year, out of 1,418,727 applicants for EU and national funds, APIA withdrew funds from only 4,287 farmers for non-compliance with the European cross-compliance standard (which prohibits the burning of stubble).
Recall that in 2022, IGSU firefighters were called to respond to 23,772 dry vegetation fires.
However, many dry vegetation fires remain unsolved. "If identified too late, the person who set the fire will have run away. Or if it's at night, then it's hard to determine. You can establish the cause. If you find an untended field surrounded by ploughed, cultivated land, then you can suspect that the fire was generated intentionally," adds the spokesman of the Emergency Situations Inspectorate of Bucharest – Ilfov.
The above graph shows cases where the APIA determined that stubble or plant residues and/or permanent grassland were burnt.
Prevention is also difficult
In the case of vegetation fires, there are several parties that can intervene to prevent, combat and stop the phenomenon.
The fire brigade is responsible for all these areas, and each county emergency inspectorate has a Prevention Inspectorate. Prevention inspectors can hold meetings with local authorities to enforce the ban on vegetation fires and present fire defences. In theory, these meetings should be attended by representatives of the county Environmental Guard stations, the Danube Delta Biosphere Reserve Administration, town halls, agricultural and forestry directorates, forestry offices, the Forestry Guard and the Rural Investment Financing Agency.
"Prevention inspectors are in charge of training local authorities. What are people being taught? The mayor is taught to carry out his duties, to constantly monitor the agricultural land within the town hall, to apply sanctions. When there is a fire, let the person in charge go there, give us the necessary support (…) and prevent fires. We have leaflets, posters, which we developed ourselves, and the town halls take them and display them in visible places", explains Daniel Vasile, spokesman of the "Dealu Spirii" Bucharest-Ilfov Emergency Inspectorate.