Kyiv's street names are being heavily de-russified
About 500 streets in Kyiv have been renamed since 2014 – many of them changed their name after the military aggression by Russia in 2022. Ukrainian and Western history and figures have now taken the place of Soviet or Russian ones.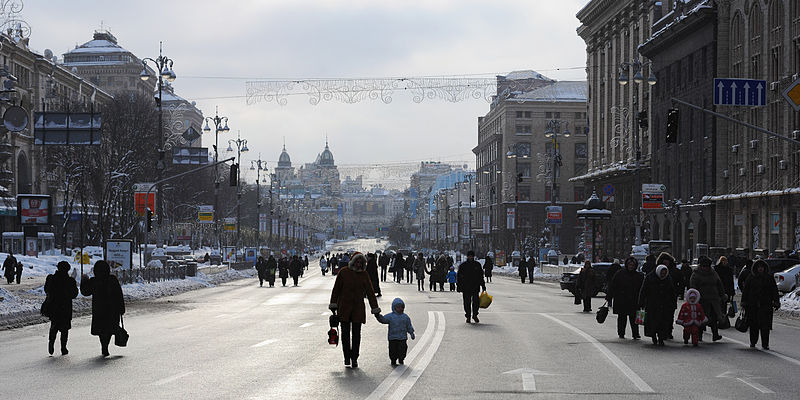 About 500 of Kyiv's streets have been renamed since 2014, many of them in 2022. In recent years, Kyiv has lost most of its street names associated with Russia.
The interactive map below shows which streets had Russian names before 2014 (right) and what the situation is now (left). Drag the slider to compare.
A symbolic change in the landscape
This de-Russification – and thus Ukrainisation – trend is imbuing Kyiv's places with memories and identities considered more appropriate.
For instance, "Reunification Avenue", referring to Ukraine's unification with Russia within the Soviet Union, is now called "Sobornost Avenue" ("Unity"), referring to the unification of eastern and western Ukraine in 1919. Streets named after Russian cities – such as Magnitogorsk, Taganrog, Orlovska, Pskovska, Baikalska, Volzska and Novorossiyska – have been rebaptised with names of Ukrainian cities: Khersonskyi, Skadovskyi, Oleshkivska, Pochayivska, Melitopolska and Chernihivska Streets.
"Collectivisation Street" was renamed in honour of James Mace, an American historian and Ukraine specialist who brought the Holodomor of 1932-33 to the world's attention. Many new street names resurrect the memory of Ukrainian history, culture, and science.
Many Kyiv's streets now also immortalise the modern-day heroes who died in the war against Russia: Maksym Levin, Oleksandr Makhov, Yulia Zdanovska, Roman Ratushnyi, Volodymyr Brozhko, Denys Antipov, Yuriy Popravka, Serhiy Berehovoi, and others.
London instead of St. Petersburg
Some thoroughfares have taken on foreign identities, particularly Western European. "St. Petersburg's Street" was renamed "London Street", but there is also "German street" and others dedicated to Brussels, Portugal, Paris and Finland. Notable Western foreigners and friends of Ukraine now have their own street too, including Descartes, Lord Byron, Karel Čapek, Golda Meir, John McCain, and Vaclav Havel.
"Groznyj Street" became "Ichkeria Street", and the former "Iskra Street" (dedicated to a pre-revolutionary Leninist newspaper) was named after Dzhokhar Dudayev, the leader of the Chechen liberation movement of the 1990s and the first president of the Chechen Republic of Ichkeria – a region that Ukraine considers to be under Russian occupation.
The full list of renamed streets can be found in a brochure distributed by the Kyiv municipality.
Although some of the capital's streets still bear Russian names (Bulgakov, Tchaikovsky, Tolstoy, Chekhov, Pirogov, and others), these are likely to disappear from the map in the near future.
Gender inequality persists
The European Data Journalism Network has collected and analysed data on streets named after individuals in major European cities.
The data show, in particular, that only 6% of such streets are named after women in Kyiv – a value in line with several other covered cities. Before the renamings, the number was even lower.
In recent years, more than 20 streets in Kyiv have been named after Ukrainian women: "Maria Prymachenko Street", "Kateryna Handiuk Street", "Dniprova Chaika Street", "Kateryna Hrushevska Street", "Iryna Bekeshkina Street", "Kvitka Tsysyk Street", "Yulia Zdanivska Street", "Varvara Masliuchenko Street", among others.