Who will be the EU's new digital gatekeepers?
With the new Digital Services Act and Digital Market Act, the European Union will favour its own digital sector while promoting innovation, fairness, and more equal market access. Citizens will see their data and digital rights more protected and safeguarded.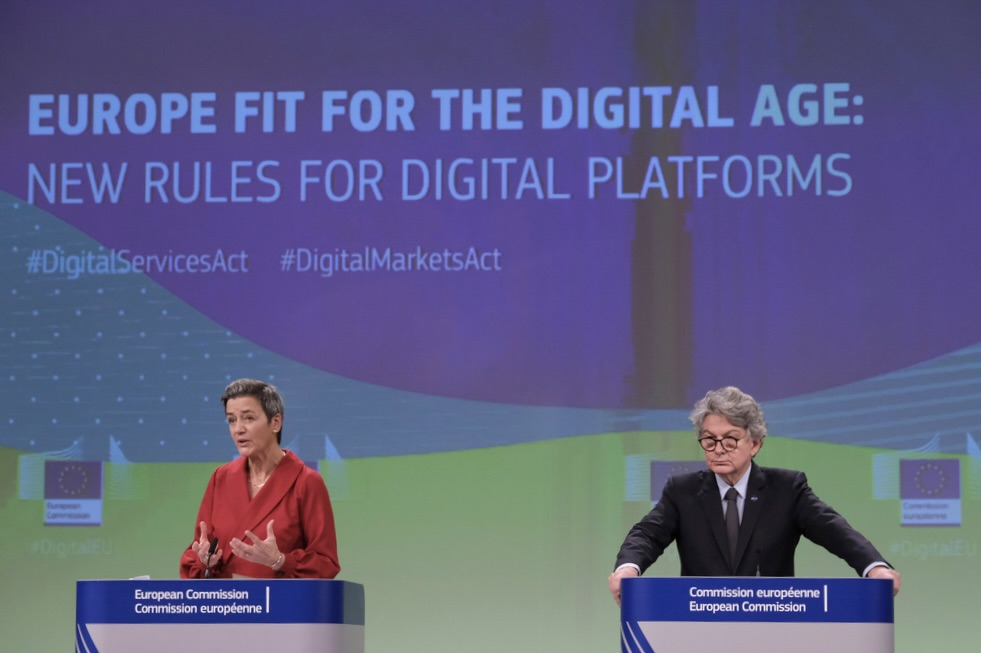 By autumn 2023, a new era for digital market regulations, data access and consumer and user rights will finally become a reality in the European Union. We break down for you how the Digital Services Act and the Digital Market Act's implementation will affect the daily digital life of EU citizens.
In recent years, the European Union has placed great emphasis on the right of its citizens to regain control of their data from digital giants.
The EU's efforts focus on consumer rights, data protection, and data use rights, rewriting the continent's rules for content and digital markets. It all boils down to two major EU legislations: the Digital Services Act (DSA) and the Digital Market Act (DMA), together with many other closely related pieces of legislation such as the GDPR and Copyright regulations, and the European Media Freedom Act (EMFA), the latter currently under negotiation.
European users regaining control from companies
The main goal of these EU laws is to create a just digital market environment where large firms don't oppress the free market, and where all EU citizens – regardless of whether they come from – enjoy the same shopping experience, media access, and data protection rights. For instance, YouTube wouldn't be able to avoid paying license fees for views in member states that are too small to bother signing licensing agreements with artists' rights-holding groups. Likewise, the new rules are supposed to help publishers whose revenue streams suffered majorly during the digital transformation era, while Google and Facebook capitalized on their media content production through exorbitant advertising revenues. From now on, each member state's gatekeeper has to share revenues with selected national publisher interest representation groups (Collective Management Organization) who then distribute the revenue from the digital sources based on their national agreement.
This year, in order to achieve these goals, a number of deadlines will have to be met by the largest platforms like Alphabet (Google), Meta (Facebook, Instagram, WhatsApp), Amazon, Apple, Microsoft, and Twitter. The general approach is that the DSA's horizontal legislation sets out responsibilities for all the actors involved in the digital sphere.
Extra-large, extra rules
Significantly stricter rules from what applied until now will be introduced for companies with more than 45 million users in the EU and that could pose a systemic risk to society as a whole. Under the new rules that came into force on the 1 November 2022, large actors preliminarily identified by the EU legislative process now have until 3 July 2023 to disagree and prove that they have fewer users. Following a number of administrative deadlines, the final gatekeepers will be designated and get to work on 6 September 2023. According to the European Commission, other smaller market actors will have to comply by July 2024.
In real terms, compliance for digital companies will primarily mean implementing a risk management system to identify and mitigate potential risks for the society, such as harmful content. For very large market actors, this will result in the obligation to put in place the mitigation measures before smaller companies and with a 3-month notice period.
Flexible and fast-adopted rules to adapt to digital developments
While the whole "flexible" digital regulation is executed by the European Commission, member states are obliged to cooperate with their competent national authorities. National governments will have to appoint by next year a Digital Services Coordinator to oversee the EC's work and ensure that national authorities cooperate smoothly and effectively.
This latter element of the rules, called the "principles of DSA governance", is putting in place a European Board of Digital Services to ensure cooperation and cross-border enforcement. The idea is that the governments can opt to delegate some duties to authorities other than the Digital Services Coordinator, but they will still be single-handedly in charge of dealing with companies.
There are detailed rules for cross-border complaint handling too, and strict deadlines to ensure that digital companies don't continue to use harmful practices and abuse users/consumers' rights.
In the broadest legal context, the rules entrust the European Board of Digital Services with coordinating closely with European Union bodies and agencies in a publicly transparent manner on issues related to data protection, competition law, rule of law, and non-discrimination, among others.
What will change for users?
An EC official familiar with the topic, speaking to EDJNet on the condition of anonymity, said that there are still uncertainties around the designation of gatekeepers. For instance, it is not clear if a certain large company with multiple services with tens of millions of users could become a messaging app gatekeeper or not.
However, our source adds that the implementation and operational decisions are underway. The process, overall, is on track, and companies have to start to comply this year. The general consequences of the implementation will be significant to users: better regulated services on social media, messaging apps, browsers, virtual assistants, shopping portals, and media websites, and better data transfer rights. Better and faster complaint and arbitration mechanisms will protect enforcement and case management for European users.
In addition to the fast and efficient removal of harmful content, which also applies to politically harmful or health-related disinformation, the new regulations introduce better rules for the protection of free speech overall.
Targeted advertising will be banned for minors, and sensitive data such as sexual orientation, religion, or ethnicity, can no longer be used by companies for advertisements.
When shopping online, the DSA articles are ensuring that products sold within the EU respect consumer rights and safety standards, are properly taxed and customs fees paid, so that real sellers can be made accountable for the products they sell online.
What will change for companies?
In parallel with the DSA, European legislators codified the Digital Market Act (DMA), a substantial document for the underlying EU regulations, but less relevant for users. The regulation is an attempt to fix the issues that in the last two decades made European antitrust regulators mostly unsuccessful in addressing the systemic problems that big internet companies allegedly generate. Namely, European corporations had trouble competing with large American and Chinese online platforms. Traditional competition policies are not equipped to deal with issues related to contestability, fairness, and innovation with respect to online platforms and markets.
According to EU calculations, the growth of an estimated 10,000 online platforms is potentially hampered – and thereby the EU's technological sovereignty – as they are increasingly faced with unchallenged online platform ecosystems. To address this situation, the DMA aims to tackle 3 key issues:
Unfair practices by gatekeeper platforms against business users and competitors.
Structural competition problems that undermine effective competition and market contestability.
Fragmented and ineffective institutional oversight and enforcement.
Unfair practices such as self-preferencing, anti-steering, unfair tying and bundling, and the absence or limitation of data sharing, will also be addressed by the articles of the market regulation.
The DMA aim to tackle structural risks to competition, which could include cases in which a large market player takes advantage of the online markets' unique characteristics such as network effects due to data accumulation or restrictions on multihoming to avoid competition. Another key element of the DMA is the creation of alternative forums for disputes, which will address future issues and preserve the flexible nature of the new rules.
In real terms, this will mean that app store owners (Apple or Google) will not be able to push their own apps more than others or ask for more money to have third-party apps included. Soon everyone will be able to choose their favourite web browser, digital assistant, app store and map service on their laptop, tablet or smartphone when first setting up the device.
According to our EC source, an overlooked element of the DMA regulation is the norm guaranteeing access to services and data for smaller operators on popular platforms. Article 6.12 of the DMA is especially relevant for media publishers, who successfully lobbied for fairer access to large platforms. This will mean more visibility and revenue from the increased traffic.
What will change for the media?
This means that media services and publishers won't be ignored either. Legislators have been following a long push by publishers to resolve their main concerns about revenue sharing from online views. This is crucial since digital content gatekeepers have massively rewritten the revenue streams for media companies, tapping into their advertising business as a direct result of changing media consumption habits.
From now on, as a result of the so-called "news media bargaining", revenue-sharing mechanisms in each Member State are being set up, and national media operators are in direct negotiations with gatekeepers to define the agreements, usually through the previously mentioned collective management organisations. As a result, media publishers will obtain revenue shares through the national mechanisms on the basis of verified audience results.
With these innovative regulations, Europe has a good chance to increase the market chances of its own digital sector, while promoting innovation, fairness, and more equal market access. On the user's side, the new area will bring better data protection, more choices in the digital landscape, and quicker and more just redress of rights.