Hungary spent 1 billion euros mostly from EU funds on empty motorways
Between 2010 and 2020, the Hungarian government spent almost 1 billion euros, mainly coming from the EU, to build motorways where traffic is now less than 10 per cent of capacity. Why did they do it?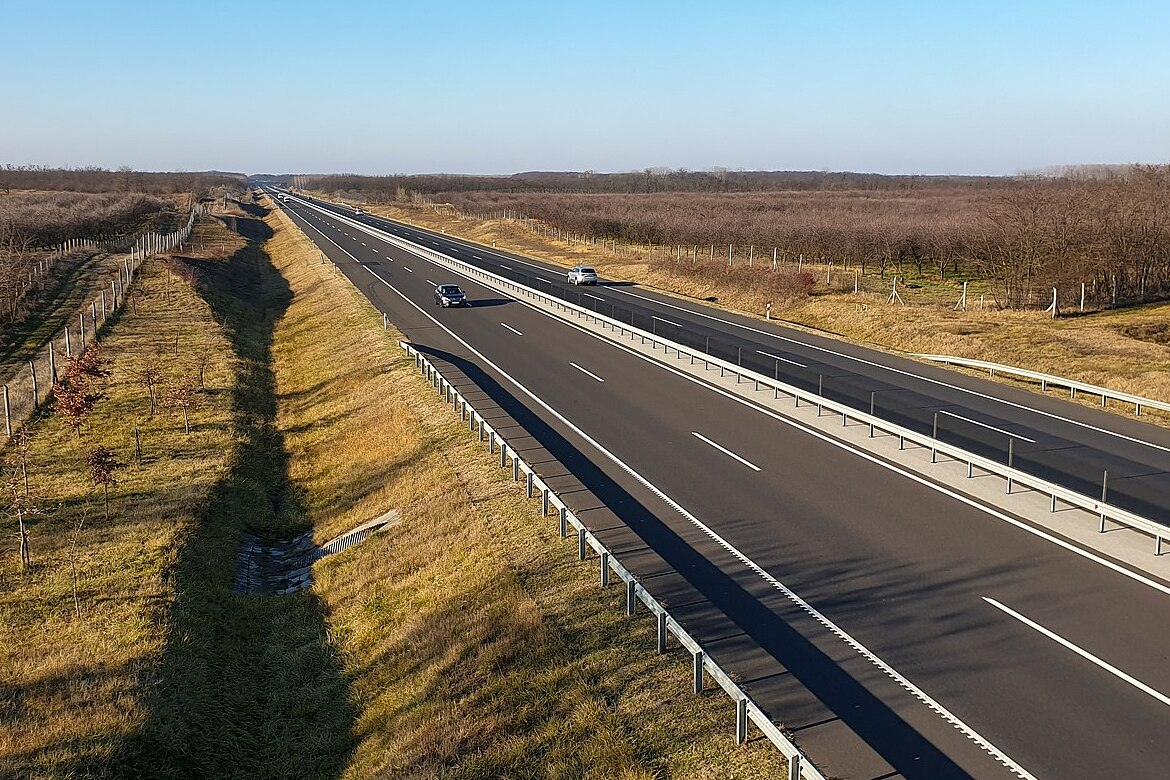 Hungary was in need of road infrastructure in the 1990s. After the collapse of the socialist economy new transport routes were used to the west and trains were substituted by trucks: between 70 and 80 per cent of goods transported by rail in the 90s are now transported by road.
Until 2010 the most important motorways have been built in Hungary: the M0 expressway around Budapest had been finished, and the major motorways leading to the neighbouring countries were also built. Since then, however, the pace of motorway construction has accelerated rather than slowing down. After Fidesz came to power in 2010, not only overall costs, but also unit prices rose rapidly.
While costs per kilometre of built motorways have risen, traffic per kilometre has fallen, resulting in hundreds of kilometres of roads that no longer make sense from a financial point of view. But the pointless investment was fuelled by poorly structured EU investment, the usefulness of which was never verified by the European Commission.
G7.hu's analysis also looked at the data regarding the utilisation of the Hungarian motorway network.
According to the latest available traffic census data, only 25 per cent of motorways would reach 50 per cent utilisation in 2020. Of the 1,739 kilometres of motorway network, built at a cost of around €10 billion, 12 per cent would be below 10 per cent utilisation, and 39 per cent below 20 per cent in the same year.
Almost 700 km were built with excessive technical parameters, too early, or completely unnecessarily. It could be argued that this is all due to the Covid pandemic, but the fall in traffic, according to Eurostat, has barely exceeded 10 per cent, and that does not change the fact that hundreds of kilometres were extremely underutilized.
Development without analysis
Prime Minister Viktor Orbán, who has led the country since 2010, somehow thinks that building motorways to the border represents some level of development that is important to achieve. Therefore he made a policy, that all motorways have to be built until the border, and all regional capitals have to be connected to the expressway network – even if the amount of traffic would not justify the investment.
But Austria, the role model for Orbán, is a good example of how this is not the case, as there are no plans to built motorway between Austria and Czech Republic this decade. Both countries are more successful than Hungary on the basis of development indicators generally considered – thus indicating that multi-billion euros of investments in infrastructures are not planned on beliefs, but on facts and analyses.
Traffic is usually lower near the borders, so a well-developed trunk road or a dual carriageway will do the trick. Even in Switzerland, which is not short of money, the A4 motorway is a wide main road through Schaffhausen into Germany. Not because they don't have the money: they know well that it doesn't make sense to build a huge motorway. There is no motorway link between Switzerland and Austria either, but neither country feels underdeveloped or that road infrastructures are missing between them.
For motorways and roads built between 2010 and 2020 in Hungary, the proportion of roads built too early seems to have increased over time. The table below shows 30 projects with a net value of HUF 1 300 billion.
Among these, there are many where the maximum capacity of the road is not even barely reached: 350 billion forints, almost 1 billion euros, have been spent by the Hungarian state, mainly from EU funds, on building motorways where traffic is below 10 per cent of full capacity.
In some cases, these roads were simply built too early. Existing main roads could have easily been upgraded, for example by bypassing towns and villages and/or upgrading to four lanes. In other cases, the new road should have been built with less lanes.
Since 2010, Hungary spent around 2.4 billion euros (956 billion HUF) to build motorways with traffic below 20 per cent of full capacity as of 2020. It is important to note that this capacity cannot be actually fully utilised, as traffic is seasonal and varies from day to day and year to year: over 50 per cent capacity utilisation can cause congestion, at times. The motorways around the capital, however, are used well above 100 per cent of their capacity. But voters in Budapest and the area around it do not support Orbán's party: that is why the government doesn't fund development in the area.
Too many motorways
By European standards, there are now too many motorways in Hungary. According to Eurostat, the total length of motorways in Hungary in 2019 was 1,723 kilometres. This is only 20 kilometres behind Austria, which is much richer, has much more cars per population, and where traffic is higher. Since 137 kilometres have been added in Hungary since then, Hungary is now ahead of Austria.
Poland has four times more inhabitants than Hungary, but the length of the Hungarian motorway network is almost the same. Czech Republic, which is much more developed, has 50% less motorways and nearly a million more inhabitants. Even Switzerland, one of the richest countries in the world, has 15% fewer motorways than Hungary.
However, some countries have built very large network compared to their size. Such examples include Spain and Croatia, which have the most kilometers of motorways per capita. Northern Macedonia, Serbia, Croatia and Kosovo have built a significant network in relation to their economies. It seems that a vast motorway network does not necessarily correlate to a successful economy.