Ukrainians welcome, other refugees unwanted
2022 was the year when Fortress Europe put on its human face. The Russian invasion of Ukraine has caused the largest refugee crisis since World War II, and xenophobic voices about the risk of destabilization of European states have suddenly been put aside.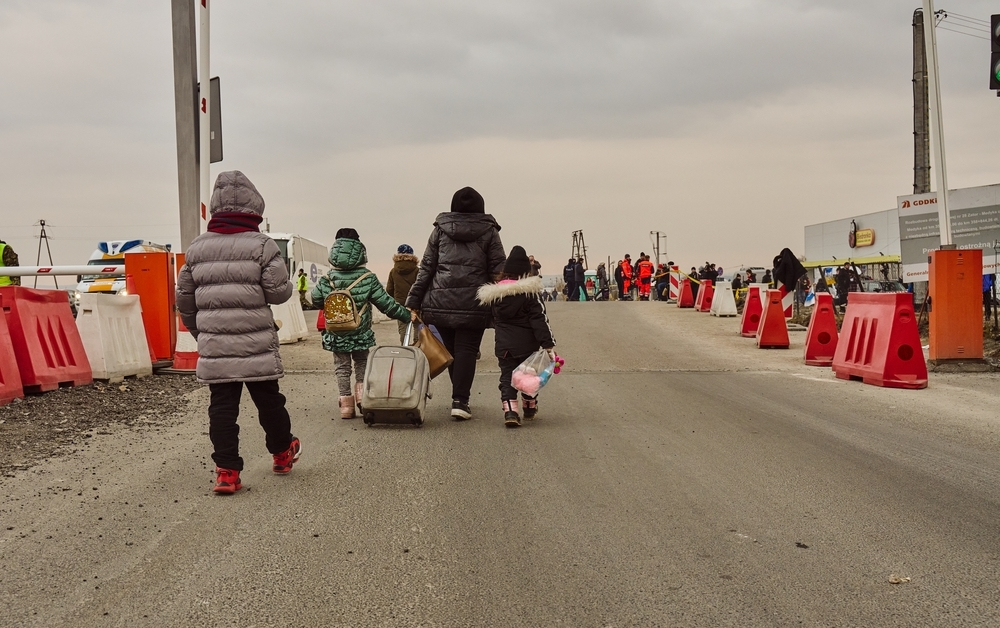 By 27 December 2022, according to UNHCR figures, 7,896,825 refugees from Ukraine had been registered in Europe, of which 4,885,650 had been granted temporary protection status.
As the EU automatically grants residence permits and visas to Ukrainian passport holders, Ukrainians are given priority for housing and social services. At the same time, however, as a recent New York Times report showed, many of the remaining refugee camps and asylum seeker centres are being abandoned to their fate by European governments. The war in Ukraine has dramatically increased the number of asylum seekers in Europe, but has crowded out refugees from other war zones. Activists denounce the existence of a two-tier system, which is unfair to non-Ukrainian asylum seekers, who are presumed to be living in appalling conditions. In Berlin, limited refugee housing capacity has forced city officials to evict some of the Afghan refugees to make room for those arriving from Ukraine. In Brussels, asylum seekers are forced to spend the night on the street. Recently, the European Court of Human Rights ordered the Belgian government to offer shelter to an asylum seeker from Equatorial Guinea who had been living on the street since July. In southern Germany, mayors are settling refugees in gyms and concert halls, while in the Netherlands the government faced legal action over inhumane detention conditions in refugee camps. A Dutch court ruled a few days ago in the first instance that the Dutch government must provide all refugees with care similar to that given to Ukrainian refugees.
In Greece, pushbacks at land and sea borders have become de facto government policy, according to the UNHCR and numerous humanitarian organisations (but not according to the government). Fortunately, arms were opened wide for Ukrainian refugees, with little in the way of racist or intolerant rhetoric. A small detail: the refugees are white, European, Orthodox Christians. And most importantly, they want to leave again.
Most of the people who started arriving in the country last spring were women and children. There were also some elderly people. It is the same picture in other European countries. Ukrainian men up to the age of 60 are, moreover, banned from leaving their country. Although there is no conscription at the moment, those of conscriptable age must remain in Ukraine, with the exception of men with three or more children. Those who chose Greece as a destination country did so mainly because of the significant Ukrainian community, where they might have had relatives and acquaintances. Most came by road and air via Poland, while others arrived via Romania by bus. Those in Mariupol and the eastern regions of the country went first to Georgia and from there came by plane. The last official count on 8 August reported that a total of 75,945 Ukrainians have fled to Greece since the beginning of the war, of whom 19,760 are children (up to 17 years old). The peak of the Ukrainian refugee wave in Greece did not occur in the first months of the war, but rather in July.
"Greece generously opened its doors to the Ukrainians. Anyone who wanted to come came without any problem at all. At this point I don't think we will have any new wave of refugees," says translator Olga Sapolayeva, who used to work at the Greek consulate in Mariupol.
Few, however, apply for asylum in Greece. In 2022, Greece recorded only one case of a Ukrainian who obtained international protection. Meanwhile 20,420 people have obtained temporary protection status for one year, which was due to expire in March 2023 but is now renewed for another year until March 2024. Of the 20,420 with temporary protection, just 212 were staying in shelters at the end of October. (125 in Elefsina and 87 in Serres).
At the same time, data collected by MIIR from the Greek Ministry of Migration and Asylum identified only 49 cases of Ukrainians who applied for and obtained subsidiary protection status in 2022 (24 in August, 10 in September and 15 in October). Subsidiary protection status has similar characteristics to temporary protection and the same duration of one year, but refugees tend to avoid it as they usually have to surrender their passports. Subsidiary protection is an international protection for people who seek asylum but do not qualify as refugees.
In the European Union, a person eligible for subsidiary protection status is defined as a third-country national or stateless person who would face a risk of serious harm if returned to his or her country of origin (torture, death penalty, degrading treatment, serious personal threat to life, etc.).
"Many times people who have been granted subsidiary protection are left without any passport. You hand over the passport and then they say, 'go and get a certificate from your country saying that you are indeed a citizen of Afghanistan, for example, and that you should normally be issued a passport by the authorities of your country'. But Afghanistan, for example, does not issue passports. So a lot of people have found themselves stranded in Greece. Ukrainians choose temporary protection because of the passport and the fact that they want to go back," says lawyer Hara Katsigiannis from the Greek Council for Refugees.
As our translator Olga Sapolayeva explains, many Ukrainians apply for housing – as they are entitled to it under the temporary-protection status – but they usually do not choose a state structure to stay in. The majority stay with relatives and friends in Greece, with a view to returning to Ukraine or moving to another European country. Most women seek work in the service sector, while many are working online at the jobs they already had. A few have become interpreters and mediators who help other Ukrainian women, while those who do not know Greek or English take care of children and the elderly.
"Clearly the Greek state treated the Ukrainians differently from other refugees. This is discriminatory treatment, this lack of equality between asylum seekers and applicants for temporary protection. But in Greece they attribute it to the European directive", says X. Katsigiannis. "In essence it's as if they are saying temporary protection is something ephemeral, it will all be over. Some [Ukrainians] get a social security number straight away, and a tax number, and access to work, while the others get rejection decisions from the Asylum Service and the Refugee Authority, especially based on the safe third country and safe countries of origin."
With migratory flows being significantly lower in recent years due to illegal pushbacks on the islands, asylum claims are generally being processed faster than in the past. According to the Ministry of Immigration, the average processing time for applications submitted in 2022 is 40 days.
In June 2021, the Greek government included Turkey in the national list of safe third countries for asylum seekers whose countries of origin include Syria and Afghanistan. The move has been criticised by dozens of NGOs working on the refugee issue. A recent report by Human Rights Watch calls for the repeal of the measure, citing the fact that Turkish authorities arbitrarily arrested, detained and deported back to Syria hundreds of Syrian refugees, both men and boys, between February and July 2022.
Meanwhile, Greece continues to be the first stop for thousands of Afghans. After Ukrainians, they are the second largest group of asylum seekers in the EU and by far the largest in Greece, where more than 37,000 – over a third of the registered – had submitted asylum applications by the beginning of October. "While the Greek government has welcomed refugees from Ukraine, efficiently registering them, issuing legal documents and allowing immediate access to work, Afghans in Greece, along with other asylum seekers and refugees, continue to be isolated from the Greek society in which they seek to rebuild their lives," Dimitra Kalogeropoulou, director of the International Rescue Committee (IRC) in Greece, recently told The Guardian.
There are several problems with the list of so-called safe countries of origin. According to Article 87 of Greek Law 4636/2019, a country can be considered safe if the asylum applicant "does not invoke serious reasons to consider that the [applicant's] country is not a safe country of origin for him/her". The law began to be implemented in 2021. The list has since grown to include 17 countries, including Ghana, Senegal, Morocco, Algeria, Pakistan and Bangladesh. Even Ukraine was originally included, but on 1 December 2022 the Ministry of Immigration and Asylum at last removed it from the list.
But how do you decide whether a country of origin is safe? "The director of the asylum service has a team of officials who basically say 'I want you to find out everything about, for example, Senegal and write a report. Then the Minister of Immigration and Asylum and the Minister of Interior issue an opinion based on this research report," the lawyer X. Katsigiannis explains to MIIR. If someone comes from such a country, in the interview they will have to rebut the presumption of safety, which is usually impossible. 99% of these decisions are negative. "A few days ago I tried a case, a trans woman from Morocco. They dismissed it. They didn't even go into the process of addressing the case individually and thoroughly, they relied on the country's status. And the rejection decisions are usually 3 lines," says Katsigiani. Applicants do not know what the internal recommendation is and cannot defend themselves. None of this applies to Ukrainians, as they are granted temporary protection immediately.
"This is institutional racism. Refugees are divided into two categories according to their origin," laments David Schmittke, spokesman for the Saxony Refugee Council in Dresden. Indeed, in the early months of the war in Ukraine, there were also reports of discrimination against foreign residents of Ukraine attempting to flee the country.
"There is a spirit of welcome and generosity towards Ukrainians, which I do not criticise at all. They deserve it. But I would love to see the same treatment applied to Syrian refugees," Paulo Pinheiro, chairman of the UN Commission of Inquiry on Syria, told Euronews.
In the view of Filippo Grandi, the UN High Commissioner for Refugees (UNHCR), Europeans should "learn lessons" from their experience of welcoming the displaced Ukrainians, and extend this welcome to other refugees at a time when humanitarian crises are growing worldwide: "Do not forget the others."